1. States of Matter. The Atom and the Periodic Table
1.2. Elements and Chemical Compounds. Pure Substances and Mixtures
Text
Elements and chemical compounds
An element consists of only type of atom.
Examples:
Mix the together and you have – a mixture of iron and sulfur.
Mixture:
Two or more substances/chemical compounds included.
The substances can relatively easy be separated from each other.
The substances maintain their original properties.
Example:
Iron is still magnetic.
Sulfur is still yellow.
Iron sulfide has different properties than iron and sulfur.Chemical compound
Characteristics differ from original elements
If you heat the mixture of iron and sulfur, it reacts, forming iron sulfide, FeS.
Different color, not magnetic.
Pure substances
Contain only one type of substance/chemical compound.
Examples
Iron sulfide, FeS
Water, H2O
Gold, Au
Sucrose, C12H22O11
Homogenous and heterogenous mixtures
Homogenous mixtures look the same, all the way through.
May be in gaseous, liquid or solid form.
Examples:
Air
Salt dissolved in water
Bronze
Liquid homomgenous mixtures = solutions
Solid homogenous mixtures = alloys
The classification of matter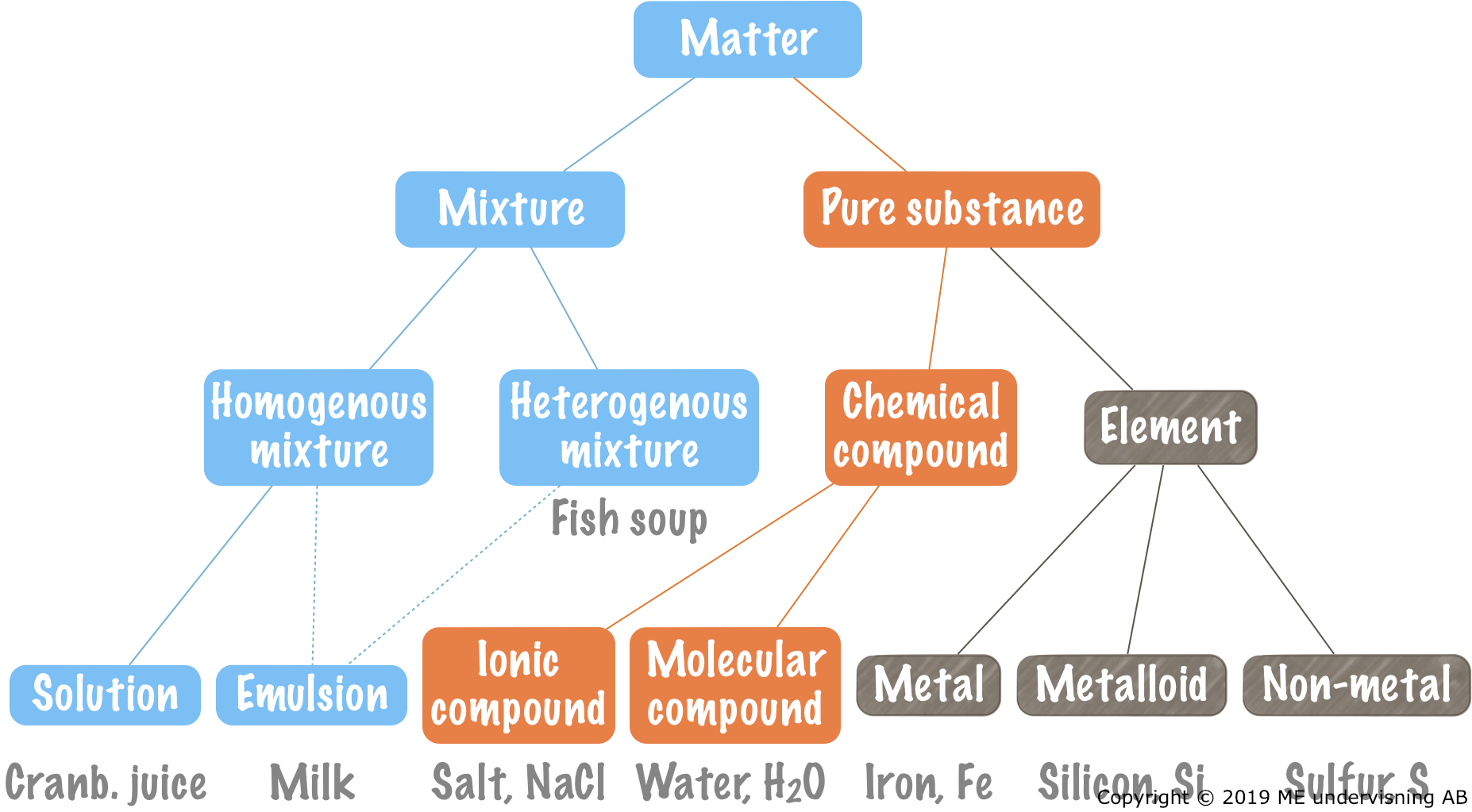 Matter may be classified as mixtures or pure substances. These may be further classified as shown in the picture. Examples of each type is shown at the bottom.
Some separation techniques
You may also be interested in:
Learn more: